Christmas Tradition List:

Ornament & Decorating Christmas Traditions - Click Here
Recipe & Food Christmas Traditions - Click Here
Gift Giving & Activity Christmas Traditions - Click Here



Ornament & Decorating Christmas Traditions:
Audrey L. of MN
My late mother (born 1903) made walnut ornaments since her childhood. She painstakinging opened walnut shells perfectly, removed the nuts, then glued the two halves together, inserting a red or green woven string-type hanger in each. Then she lightly coated it with a clear shellac, and they last forever!

Donna H. of NC
Each year my husband and I set up train sets under our tree. We now have 7 sets running at one time. The kids, adults and even our dog love to lay on the floor and watch them run.

Andrea M. of FL
My family and I buy a Christmas ornament for each person and put it on their gifts.We put their name and the current year on it. Its wonderful!

John H. of CT
My favorite family tradition is decorating the tree and decorating the kids too. We wrap them in garland and hang ornaments on them too and get pictures, we have been doing this since I was a kid.

Terri S. of AL
My mother and I like to present a box of special personal Christmas decorations we have made or ran across during the year to each member of our family after Thanksgiving dinner.

Belinda S. of OH
I try to purchase a new ornament whenever I go on vacation to put on our tree to remind us of our great vacations.

Kris B. of TN
Using an orange and whole cloves, stick cloves into the orange until full, when done hang with ribbon, looks and smells festive!

Lynnette S. of SC
I buy my kid's a Christmas ornament every year. I try to pick out something that reflects their interests at the time.

Deanna C. of MO
We decorate all our envelopes that we send out (yes even the ones with bills that are being paid) with christmas stickers, markers and original art to bring holiday cheer to those that receive them

Gail T. of NC
When my husband and I first married, we had no ornaments or anything for our tree. We had to buy all new stuff. So when we started having kids, each year we buy them a new ornament. When all of them are on there own, they will have their own ornaments, with memories to go with each one. Maybe it will make the 1st Christmas away from home a little easier.

Carole V. of WA
We enjoy displaying Christmas cards which are sent to us each year, sometimes numbering over 100. We hang them all over the front room where we can enjoy all the good wishes for a wonderful Holiday Season from dear friends.

Peggy H. of NV
We don't live near any of our families so each year we have a Christmas Party and invite friends and co-workers. We ask them to bring a small Christmas ornament to hang on the tree. Each year when we decorate our tree we always use these ornaments. Our tree and its ornaments is a great conversation piece and full of memories.

Edna S. of IL
My dad always hung a box of candy canes on our tree. He is passed away now so I hang the candy canes on my tree to remember him by.

Suzanne L. of TX
The holiday tradition that my family most cherishes is decorating for the Christmas season. The day after Thanksgiving, my brother and I drag the artificial tree and decorations down from the attic. We string the lights on the floor all throughout the house to make sure they work before taking the time to put them on the tree. We wind the colorful lights around the branches and carefully place the ornaments, as we listen to Christmas carols. As a finishing touch, we add icicles, and plug the lights in. In the mean time, my parents work outside to decorate the exterior of our home, stringing lights along the roof and bushes. As a whole family, we stand back and marvel at the work we have just done over cups of hot chocolate and reminisce about our favorite Christmas memories.

Alisha F. of VA
Every year my 4 year old son and I make a new ornament for the tree with a picture of him on the ornament to see how much he has grown, It gives us family time and we have fun.

Wanita G. of ME
This Tradition started a few years back when my dear friend was badly injured in a car accident. Thanksgiving afternnoon after our dinner is done, all the children gather around. We get out the tree and all the ornaments and the children all trim our tree, no adults allowed to correct them or help in any way. The adults are also not allowed to move or adjust the ornaments and decorations in any way. This is an event for the children to enjoy and be proud of.
Latest Entries...
Robyn Y. of NC
We set up a train and tracks all the way around our house. For the week prior to christmas we run the train every night. We decorate the entire house and yard.

Donna W. of NH
My friends and I that are crafters all do a different ornament themed swap every year. One year we did angels, another it was snowflakes, last year snowmen. This year it is gingerbread men. There are about 10 of us that do this each year. Fun to see everyone's neat ideas on your tree.

Janet E. of WI
Popcorn Heart Garland. You will need popped popcorn. one 21 inch, two- 17 inch, and two 12 inch piece of heavy weight cardboard, utility or craft knife, glue, 14 inch of 3-ply jute, 4 yards of desired color 7/8 inch ribbon and thread to match ribbon. ----- Draw heart pattern on each piece of cardboard, making it about 1 inch wide. You will make 1 large, 2 medium and 2 small hearts. Use utility or craft knife to cut out the hearts. Cover one side of each heart with craft glue and press popcorn into glue. Allow to dry. If needed, glue on more popcorn to fill any spaces. Cut four 3 1/2 inch lengths of jute. Place hearts 2 1/2 inches apart with wrong sides up. Hot glue ends of jute to back of each heart just at the start of the curve on top of heart. Cut four 22 inches lengths of ribbon and tie into bow. center a bow on front of each length of jute; tack in place with thread. Cut remaining ribbon in half. Hot glue folded edges of rib!
bon to back of each small heart at ends of garland.
In stead of stringing popcorn we glue the popcorn to cardboard heart cutouts to make a pretty popcorn ornament. For each heart we use a 3 1/2 inch square and draw a heart on it. Use utility or craft knife to cut out heart. For hanger, thread 8 inch of nylon (fish) line throughout the center of the heart and tie the ends together. Cover one side of heart with craft glue and press popcorn into glue. Allow to dry. If necessary glue on more popcorn to fill in any spaces. Repeat for the other side. Hang on tree when dry.

Que B. of BC
We make salt dough ornaments with the kids every year at Christmas. We use them to decorate our gift packages for a personal touch!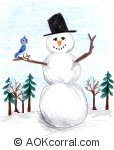 Recipe & Food Christmas Traditions:
Kelly T. of MO
Here is a super easy christmas cookie recipe.
1 chocolate cake mix
1 stick of butter melted
1/2 or 6oz bag chocolate chips
red and green M&M's
Mix all ingredients together. Roll into 1 inch balls and bake at 350 for 10 minutes

Kacey R. of MN
Each Christmas I bake "special" fortune cookies with some cinnamon and sugar toppings and a number in each cookie.The number corresponds to paper fortune cookies that we hang on the tree. Each family member picks a tree "cookie" that matches the real cookie nunber.The paper cookies have treats, tiny prizes and "kindness iou's". Everyone, especially the kids love it. We've been doing it for seven years and it gets more exciting every Christmas.

Kelly T. of MO
Here is a special recipe/craft project. My family always takes care of the birds each winter and kids just love making this for them.
1/2 pound beef suet melted
1 cup creamy peanut butter
2 bird seed and more to coat.
String cut into 14 inch lengths
Melt suet add the rest of the ingredients roll into fist size balls and put a string about 14 inches long through the center. Roll in bird seed to coat. Refrigerate about 1 hour till firm.
Hang on the trees outside

Cathy B. of VA
My family tradition was Oyster Stew for breakfast. Now by tradition for the last few years I have family friends, people like my self who have lost their parent and only have extended family. I have an open house on Christmas Eve afternoon, serving Seafood and use some of my mothers recipes for baking. I believe my parents were definitely there in spirit.

Robin W. of NC
We always have sausage balls & Christmas cookies while opening presents Christmas morning. Sausage Balls are super easy to make & can be made days or even weeks ahead & frozen: 3Cups Bisquik, 1lb. sausage & 1 lb. grated cheese. Mix together in a big bowl using your hands. After mixed break off hunks & roll into balls a little smaller than a golf ball. Bake on 300 for about 15-20 min., turning over once after about 10 min. That's it! Delicious!

Janet E. of WI
Every Christmas for breakfast we have eggnog and Christmas stollen. My husband as done this since he was a young boy and he is 66. Our kids are also carrying on with the tradition.

JoAnne T. of SK
We make peppermint flavored Candy Cane Cookies. Christmas just wouldn't be Christmas without them!

Kelly T. of MO
Our family gets together and bakes christmas cookies. We have a great time mixing, baking and decorating and everyone shares in the clean-up.
Here is one of our favorite recipes.
Ginger drops
1 package gingerbread mix
1 cup almonds
1 cup raisins
1/2 cup of water.
Mix all ingredients
Drop by spoonfuls onto ungreased cookie sheets and bake at 350 for 10 minutes

Eric C. of MN
Sitting around and drinking apple cider (with cloves) that has been simmering in a crock pot all day (1 gallon cider, 12-15 cloves)

Kam A. of WI
One of my Grandmother's favorite side dishes for Christmas dinner is her "Christmas Cauliflower". The recipe is:
1 large head of cauliflower, broken
1/4 C green pepper, diced
7.3 oz jar sliced mushrooms, drained
1/4 C butter
1/3 C flour
2 C milk
1 C shredded Swiss cheese
2 T diced pimento
1 t salt
a pinch of paprika
Instructions:
1) In a large bowl or saucepan, cook cauliflower in water for 6-7 minutes until crisp tender. Drain well.
2)In a medium saucepan, sauté green pepper and mushrooms in butter for 2 minutes. Add flour, gradually stir in milk. Bring to a boil; boil for 2 minutes, stirring constantly.
3) Remove from heat, stir in cheese until melted. Add pimento and salt.
4) Place half of the cauliflower in a greased 2 quart baking pan. Top with half of the sauce. Repeat layers.
5) Bake uncovered at 325 degrees for 25 minutes or until bubbly. Sprinkle with paprika.

Kam A. of WI
Every Christmas as we are opening presents my aunt always makes us Russian tea.
The recipe is:
2 C Tang
2 C sugar
1 C Lipton Instant 100% tea
2 small envelopes of Wylers Lemonade with sugar
1 T cloves
Mix all together and heat. Can add more sugar to taste.

Donna P. of IN
Here's a fun project to do that my son and I do every Fall and Winter.
For The Birds
1 or more pinecones
1 container of peanut butter
1 bag of bird seed
A few bread twist ties
Take the pinecone and roll it in the peanut butter, now roll it in the birdseed covering all of the peanut butter, tie the twist tie to it and hang it off of a fence or tree limb, now sit back relax and watch your feathered friend enjoy the treats you made them!

Amanda O. of ID
My family gets together on Christmas day and has our traditional stacked enchiladas dinner. It's flat fried corn tortillas with all the normal toppings. Put on another tortilla and smoosh it down and keep stacking until you dare not stack anymore. It is then topped with my great grandma's special homemade enchilada sauce. When I tell people who don't have the classic turkey or ham they are shocked so I invite them on Christmas day and they are shocked at how tasty it is.

Alisha F. of VA
Quick and Easy Punch Great drink for holidays,
1 package, Raspberry koolaid,
1 cup sugar
1 liter gingerale
1 large can pineapple juice
1/2 Large box raspberry sherbert mix all ingredients well, and serve.

Janet E. of WI
My Dilly Oyster Crackers that we have for munching on Christmas.
1 (1.6 ounce) package ranch-style salad sressing mix,
1 tablespoon dill weed,
1/2 teaspoon garlic powder,
1 (16 ounce) bag oyster crackers, unseasoned,
1 cup vegetable oil.
In a large bowl, combine dressing mix, dill weed, and garlic powder. Add cracker and blend thoroughly. Pouroil over mixture and stir thoroughly; allow crackers to absorb oil and seasoning. Store in air thight container. yeild: 8 cups.

Margie K. of NC
Christmas BALLS
1 lb. crushed graham crackers
2 bags mini marshmallows
1 jar maraschino cherries, chopped
1 cup walnuts, chopped
2 cans sweetened condensed milk
1 large bag coconut
Mix in large pan, refrigerate 2 hours.
Roll into balls then roll in more coconut.

Janet E of WI
Recipe---Christmas spicy pecans----Your guests will beg for more of these, so bake plenty to serve and to give to friends.
1/2 cup butter,
3 Tablespoons A-1 steak sauce,
6 dashes Tabasco sauce,
4 cups pecan halves ( may use pecan pieces),
cajun seasoning.
Melt butter in a large baking sheet in a preheated 200 degree oven. Add steak sauce and Tabasco sauce, stir in nuts. spread nuts out on baking sheet and bake 1 hour. Stir often while baking. drain on paper towels and sprinkle with Cajon seasoning. Store in air tight containers. Makes 4 cups.
Our Christmas Sugared Walnut---A brown sugar coating makes these crisp nuts a sweet treat to munch on while opening our Christmas gifts.
8 cups water,
4 cups walnut halves,
1/2 cup light brown sugar, firmly packed,
vegetable oil,
salt.
In a large sauce pan, bring water to a boil. Add walnuts and boil for 1 minute. drain nuts and rinse in very hot water, drain again. place warm nuts in a bowl and add sugar. stir until sugar is melted. in a heavy skillet, heat 1 inch of oit to 320 degrees on a candy thermometer. Cook 2 cups nuts at a time for 3 to 4 mintues. (do not over cook). drain o paper towels. Store in airtight containers. Makes 4 cups but you most likely will want to make more as they do not last long.
Bob's Famous Christmas mint patties.
1/2 cup butter, melted,
1 egg,
1 cup sugar,
1 3/4 cup flour,
1 teaspoon baking soda,
1 teasoon peppermint extract,
2 cups semisweet chocolate chips,
1/4 bar paraffin.
Beat butter, egg, and sugar together. Combine flour and bakig soda; add to butter mixture. Stir in peppermnt extract. Drop by teaspoonfuls onto greased baking sheets. Bake in a preheated 350 degree oven for 10-12 minutes. Remove from baking sheets and cool on wire racks. In double boiler over hot (not boiling) water, melt chips and paraffin. Drop cookies into chocolate to coat. lift out with a fork and place on wire racks with wax paper underneath to harden. Yield about 3 dozen patties. My husband remembers making this with his grand mother when he was young. We made them with our kids and now make them with the grand kids.
Christmas recipe----Wreath cookies
6 tablesppons margarine,
1 cup light corn syrup,
1 1/2 teaspoons green food coloring,
6 tablespoons sugar,
7 cups cornflake cereal,
small red cinnamon candies.
In a large saucepan, mix margarine, corn syrup, food coloring, and sugar. cook over medium heat until mixture boils, stirring constantly. boil 5 minutes, stirring frequently: remove from heat. Add cereal and stir until blended. Drop mixture by buttered 1/4 cup measure into waxed paper. with buttered fingers, shape ito a circle to resemble a wreath; decorate with cadies. Let stand until firm. Store in airtight containers. Makes about 24. Also used in our Christmas gift baskets for friends.
A Christmas recipe----Carmel Graham Crackers
24 squares of cinnamon graham crackers,
1/2 cup margarine,
1/2 cup butter,
1 cup light brown sugar, firmly packed,
1 cup pecans, chopped.
Line a 15 1/2 x 10 1/2 inch baking sheet with foil: cover with a single layer of graham crackers. Mix margarine, butter, and sugar in a saucepan: bring to a boil and cook 2 minutes. Pour mixture over crackers: sprinkle with chopped nts. Bake in a preheated 350 degree oven for 12 minutes. cut into triangles while warm. About 4 dozen cookies. This recipe has been made in my family for many years and given out as part of gift baskets.

Robyn Y. of NC
My aunt always has Christmas dinner at her house for the family. One thing that we all look forward to is a big huge serving bowl filled with punch. Its lime sherbert ice cream with 7 up poured over it. When the ice cream starts melting, it tastes super great.

Deanna C. of MO
I make the easiest and best tasting clam chowder for Christmas Eve. Here is the recipe
2 cans cream of celery soup (condensed)
2 cans cream of potato soup (condensed)
2 cans New England Clam Chowder soup (condensed)
2- 6oz cans of chopped clams drained
1 Quart 1/2 and 1/2
Put into crock pot and cook on low for 8 hours or high for 4 hours

Sarah T. of Missouri
Recipe: My kids call these "Spider Cookies" but I have found out that they are a variation on Haystacks. It wouldn't be Christmas without these! Take 12 oz. chocolate chips, 12 oz. butterscotch chips, a can of chow mein noodles and a small can of cashews. You can melt the chips in a double boiler or in the microwave. Then add the noodles and nuts. Spoon out the cookies onto a cookie sheet or anything. To make them set quickly, I put them in the refrigerator for 15 minutes or so. Once they have hardened you can take them off the cookie sheet and eat them or store them. Yummy!!!
Latest entries.....
Sandra L. of TX
Growing up my mom would close off the kitchen for an entire weekend. My sister and I weren't allowed anywhere near the kitchen and one year we didn't eat breakfast or lunch and by dinner we were begging for broken cookies!
These are my favorite cookies that my Mom makes:
Biscochos (Mexican Wedding Cookies)
1 pound lard
1 cup sugar
3 eggs
½ cup wine or brandy
4 teaspoons baking powder
2 teaspoons ground cinnamon
1 teaspoon ground anise
4 cups flour, slightly more if needed
In medium bowl, mix dry ingredients, flour, baking powder, and anise. Set aside.
In large bowl, cream sugar and lard until light, add eggs and wine until well blended. Add dry ingredients, mix well.
Roll dough on lightly floured surface, to 1/4 inch thickness. Cut with small size cookie cutter. Place cookies on ungreased cookie sheet. Bake 350º. Ready when color is brown, about 10 to 12 minutes. While still warm, cover cookies with a mixture of sugar and cinnamon.

Carolann M. of PA
I take out a cookie recipe book and put numbers equal to the number of pages in the book in a jar. My sons then draw a number and we make that recipe. It has worked out well as I do shopping for a lot of the regular stuff ahead of time and if we don't have a particular ingredient then we bake that recipe on the weekend. It helps us to try different things.

Sherri B. of NC
Growing up, my mom and grandmother would spend hours in the kitchen cooking for an army. My dad worked shift work so his time with us at Christmas was always limited and our meals were always at odd times so that he could eat before going to work. Trying to cook all that food by a certain time and having to clean all the dishes wore everyone out. Once we got older, we started a new tradition. Now, we cook steaks on the grill and have baked potatoes and salad. It is quick and takes up much less time and lets us actually spend some time together out of the kitchen. The food is good and the time spent together is even better!!!

Maura S. of FL
Christmas dinner is a highly anticipated throughout the year. My Dad always cooks up a tender Prime Rib with Yorkshire pudding and a tasty side of Béarnaise sauce! Of course there are other yummy bowls of mashed potatoes, gravy, and brussel sprouts but I like to hoard the plate of Yorkshire pudding on my side of the table. Somehow I can never keep it from getting gobbled up!

Mary J. of MI
My neighbors and other girlfriends get together for a Christmas cookie swap. Everyone brings two dozen of their favorite Christmas cookies or candies over and we all get at least three cookies or candies from everyone to take home. We have a snack and share what is going on in our lives, because everyone is so busy at this time of year it is nice to take a couple hours for yourself and you don't have to do all that baking yourself and you get to sample everyone else's favorite holiday treats. It is always a nice time of sharing.

Janet E. of WI
BABY FOOD BARS-----1 small baby food jar strained apricots, 1 small baby food jar strained applesauce, 1 small jar baby food strained carrots, 2 eggs, 2 cups sugar, 1 1/4 cup oil, 1 teaspoon salt, 2 teaspoon baking soda, 2 cups flour, cinnamon (optional) ------- Mix all together. Bake on greased and floured 11 x 15 inch pan at 350. FROSTING- 4 tablespoons butter, 3 oz, cream cheese, 2 cups powdered sugar, 1/2 teaspoon vanilla.---Combine butter, cream cheese; beat well. Add powdered sugar & vanilla. Frost cooled bars.

Gift Basket recipe---MOCK BABY RUTH BARS----4 cups oatmeal, 1 cup brown sgar, 1/2 cup crunchy peanut butter, 2/3 cup melted butter, 1/4 cup Karo syrup.------TOPPING--- 1 cup chocolate chips, 1/2 cup peanut butter, 1/2 cup copped nuts, 1 cup butterscotch chips.----Mix first 5 ingredients and press into a 9 x 13 inch pan. Bake at 375 for 8 to 10 minutes. Melt together topping ingredients and spread over baked top. Cool.

Gift basket recipe---MOUNDS BARS-----1/2 cup butter, 1 cup flour, 2 cups flaked coconut, 1 can sweetened condensed milk, 1/2 cup brown sugar----Cream butter, brown sugar and flour. Press into ungreased 9 x 13 inch pan. Bake at 350 for 10 minutes. FILLING-mix milk & spread on crust. Bake an additional 10- 15 minutes. Place thin milk semi sweet chocolate bars over top. Cover pan for about 5 minutes or until chocolate is melted; spread on bars.

Gift basket bars.---KIT KAT BARS----- 1 1/2 cups butter, 1 1/2 cups brown sugar, 1/2 cup white sugar, 3/4 cup milk, 3 cups graham cracker crumbs (fine). Topping---1/2 cup chocolate chips, 1/2 cup butterscotch chips, 2/3 peanut butter.---- Cook first 5 ingredients to a boil on medium heat. Watch carefully, stirring constantly. Line a 9 x 13 inch pan with Waverly crackers (green & gold box). Spread 1/3 mixture on crackers, repeat so there are 3 layers ending with filling. Topping. Melt all ingredients together. Spread on top and refrigerate. Cool and cut into bars.

Recipe for gift baskets. O'HENRY BARS-----1/2 cup butter, 1 (6 oz.) pkg. chocolate chips, 1 cup peanut butter, 1 ( 10 1/2 oz) pkg. miniature marshmallows, 4 1/2 cups Rice Krispies, 1 cup nuts.-------Frosting---- 1 (6 oz) pkg. chocolate chips, 1 (6 oz) pkg. butterscotch chips---- Melt butter, 1 pkg. chocolate chips and peanut butter. Add marshmallows and stir until melted. Add cereal and nuts. Put into a 9 x 13 inch greased pan and refrigerate only until set. Melt chocolate chips and butterscotch chips and spread on top.

I use these bars in gift baskets. SODA CRACKER BARS-- soda crackers, 1 cup butter, 1 cup brown sugar, 1 cup chocolate chips, 1 cup butterscotch chips, 1 cup chopped nuts.----- Butter an 11 x 16 inch size pan and line with soda crackers. Combine butter and brown sugar and boil for 3 minutes. Pour this mixture over the crackers. Bake at 375 for 5 minutes. Sprinkle on chips and let stand a few minutes. When soft, spread with a knife. Top with nuts.

PEANUT BUTTER BALLS-----2 cups powdered sugar, 2 cups graham cracker crumbs, 2 cups peanut butter, 1/2 melted butter.-------Mix all together. Roll into balls. Freeze. Dip frozen balls into dipping chocolate.

Recipe- here is one of the recipes I make to put in gift baskets for family and friends. EGGNOG BREAD----- 1/4 melted butter, 3/4 cup sugar, 2 beaten eggs, 2 1/4 cups flour, 2 teaspoons baking powder, 1 teaspoon salt, 1 cup eggnog, 1/2 cup chopped pecans, 1/2 cup raisins, 1/2 cup chopped red and green cherries.--------- In a large bowl, combine butter, sugar, and eggs. Mix well. Combine flour and baking powder and salt. Stir into butter mixture alternately with eggnog. Mix until dry ingredients are moistened. Fold in pecans, raisins, & cherries. Spoon into loaf pan. Bake at 350 for 70 minutes. So yummy.

Audrey L. of MN
I'm 66 years old. My family has always made a large turkey dinner on Christmas Day. My late grandparents, who passed away in 1919 (20 years before I was born), always made walnut-raisin stuffing for their turkey, with a big extra pan of it, because it is so delicious. So, now it is 2005, and my family has been making the same turkey with walnut-raisin stuffing dinner on Christmas Day since 1900 ~ 105 years!

Wilma G. of OR
Many food traditions are important to my family. One of my favorites is making candy with my grandchildren for them to give as gifts. Each child starts at about age 3, and as they grow older their level of involvement improves, naturally, but they don't want changes in what they make. Each child makes a different kind of candy so that each gift will be unique. My granddaughter also makes Pepper Mustard for the men in her life (father, grandfather, uncle)who don't eat fudge. By mid-November the kids are already supervising my shopping list to make sure I don't forget any ingredients.

Audrey L. of MN
RUM BALL COOKIES!
INGREDIENTS
2.5 c. vanilla wafers, finely crushed
1 c. pecans or walnuts, crushed
1 c. powdered sugar
2 heaping tbsp. of cocoa
2 heaping tbsp. of honey
1/4 c. rum
Powdered sugar, or a combination of crushed vanilla wafers, nuts, and powdered
sugar for rolling
METHOD
In a small bowl, mix the rum and honey. Set aside.
In a medium sized bowl, thoroughly mix the first four dry ingredients.
Add the rum and honey to the dry ingredients and mix thoroughly.
Shape into spoon sized balls. Roll in powdered sugar, or in a combination of
wafers, nuts, and sugar.
Store in a tightly-sealed container.
SUBSTITUTIONS
Light corn syrup for the honey.
Melted chocolate for the cocoa.
Making Christmas cookies is a tradition in my home, and rum ball cookies are my favorites!

Wanita G. of ME
My children every year insist on having my
cranberry/orange relish
1 bag fresh cranberries
1-2 seedless oranges unpeeled
1 cup of sugar
toss it all into the food processor till finely chopped and refrigerate in a sealed plastic container.
now how easy is that for making the kids happy
They are very disappointed if we don't have it. to them it is as important as the main dinner. We have had this every year that they can ever remember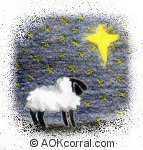 Gift Giving & Activity Traditions:
Gladys P. of TX
Most every family has extra company during the Holidays and often these guests may be surprise guests with children. Prior to the Holiday rush it is easy and fun to purchase a number of small toys for children, place them in Holiday bags, then in a colorful container of some sort and when children come to visit, let each choose a Holiday bag at random. This will delight the children and give them something to play with while the grownups socialize. If you have leftover toys after the Holidays, donate them to charity.

Donna L. of FL
Due to more available employment my 2 sons moved to Florida 15 and 12 years ago. I followed 11 years ago. We left our New Orleans surroundings and Cajun-French heritage. But each Christmas we observe the old ways. On Christmas Eve the kids go to bed early. The adults stay up to 2 or 3 AM cooking. On Christmas morning the kids arise early and while opening presents we all enjoy a cup of strong cafe au lait. This year it will be more meaningful due to Hurricane Katrina and possibly the loss of our Cajun-French heritage.

Jacquelynn F of WI
On Christmas Eve, my immediate family exchanges our "Christmas fun, gag gifts"..this would include things like "snowman poop" (Styrofoam pellets), "build a snowman kit" (a pipe, a carrot, and coal or black painted rocks). On Christmas day we have our regular gift exchange.

Suanne G. of TX
Each year our family chooses one charity related to giving gifts to children at Christmas. We each contribute a predetermined amount of money with the option of contributing more. We all share in the shopping and wrapping (if specified by the organization). In the past, with the help of friends and businesses, we have been able to supply gently used bedroom sets for children, and other items we could not have gotten without their kind generosity. Dentists often donate toothbrushes and toothpaste, etc. We make sure there are enough socks and underwear for a week and as many outfits as possible. All toys specified are donated unless they are impossible to find. We even try to include items for Mom such as creams and lotions, perfumes, or other things she might enjoy.

Debra M. of NC
We sing Happy Birthday to Jesus before we do anything else, and praise Him for it is His birthday and we honor Him.

Judy B. of FL
Each year on Christmas eve, we have homemade noodles with turkey and homemade oatmeal bread. After eating, we read the nativity story from the Bible, (if we have guests - we then read it in their language). We often then share our gratitude for the Christ child and for each other. We then open one gift and hang stockings and go to bed!

Jeanette J. of Ontario
My mother makes rice pudding every year for dessert and she puts a whole almond somewhere in the pudding. Whoever gets the almond gets a prize

Joellen A. of IL
We travel home to be with family and friends. We go to late church on Christmas Eve after a family supper of homemade chili, oyster stew, chicken noodle soup and goodies for desert.

Wendie L. of OH
My mother use to invite everyone over on Christmas eve for chili and eggnog...Thank goodness my sister changed the tradition years ago. She has family and friends over for Christmas eve, everyone dresses up, and brings a fancy hors dourve to share. We all visit, and sample the array of wonderful treats and exchange the recipes of our favorites. After a while Santa arrives and delivers each child a preselected gift from their wish lists while the adults exchange gifts. After this is finished it is usually time to head home to get kids to bed so Santa can visit their homes.

Valerie L. of AZ
This will be the 3rd family x-mas we do, there are 5 of us that live a block from each, we start at the top house, sisters & brothers, then work our way down visiting each house and eating a little and a toast, then at the last house, mom & dads, we have a dinner and open presents. It is fun and we all get together that way and there is not alot on just one family member.

Zara H. of AL
A few days prior to Christmas, my children and I make and decorate hundreds of Christmas cookies. We then make cookie trays for all of our neighbors and trays for the residents of our closest nursing home. We then bundle up and head out to make our deliveries. I always love doing this because the kids are learning the true meaning of Christmas. Oh, and we do keep a few cookies for us too!

Diane M. of NY
Our entire family of 14 (including 6 grandchildren) gather for breakfast. After breakfast we open stockings. Each stocking contains 8 small wrapped gifts and we take turns going around the table and trying to guess them before opening them. Even the smallest children are patient enough to await their turn. We have a lot of fun seeing what each person got. Some are gag gifts and some are even garage sale finds! When this is over, we then open the gifts under the tree. After that, they disperse to their "other families", and usually return in the evening when we have friends over. The afternoon is free for me and my husband to relax, straighten up and have a leisurely dinner.

Hilarie Z. of NY
The entire family gathers on Christmas Eve to open HUGE stockings that are filled with presents that we have made for each other throughout the year. Champagne and snacks are served and then we go out caroling.

Linda S. of PA
There is a tradition of hiding a pickle ornament on the tree and whoever finds it gets an extra present. I make it a gift good for all, often a game. Usually they forget about the 'pickle prize' for a few days, so its a real treat getting another present after Christmas.

Norma S. of FL
Every christmas eve the whole family gathers at grandma's house to open a time capsule made 2 years before filled with wishes, pictures and predictions made 2 yrs.before.We all have so much fun. Then we make one for the next 2 yrs. The reason we wait 2 yrs is there is always so many changes in all our lives by then, especially the kids. It is a great tradition.

Jackie Y. of MO
My husband and I and our children and grandchildren started out drawing names several years ago, we love it and have lots of fun-then a few years ago my sisters family joined us-we all have a huge christmas dinner-then exchange our gifts, last year an older gentleman who lives nearby-with no family- joined us, and this year a friend of my sister, her daughter, and her mother will be joining us, we will soon have a huge crowd-and we love it.

Cheryl M. of FL
We invite all our family and friends over to my home and we take a day of making meals, cookies and wrapping presents for the homeless on the street. Even the children sit around and help with candies that they put in Christmas baggies with a little note they write to let the people know how special they are, and that they care!

Lisa G. of KY
Our oldest daughter's birthday is very close to Christmas so on her birthday every year we go out to dinner for her birthday and then start celebrating Christmas. We walk through Christmas in the Park and see the beautiful displays done by the local schools and businesses. On our way home we view the decorated houses. After we get home we start decorating for Christmas. We tried to change it as our daughter became a teenager but the kids wanted to keep the tradition. This will be our 18th year of celebrating this way.

Tracey B. of AL
Our Christmas tradition is to open one present on Christmas Eve. That present always being new pajamas. Everyone gets the excitement of opening a gift and the new pajamas look good for the pictures taken on Christmas morning.

Melinda T. of TN
We open presents one person at a time starting with the youngest. That way everybody gets to see what others gets and gave. Sometimes it is hard for the older ones to wait their turn, but when it gets to them, they now have the spotlight.

Eric C. of MN
What I personally like to do is take the kids into the living room, and show them different countries on the globe, then name off what they call Santa in the those countries (i.e. Kris Kringle, Father Christmas, etc.) and what stories I know about those particular regions.

Eric C. of MN
Passing of the Burnt Cookie:
Almost every family has a cookie or two that really burns in the oven. Because the house is dimly lit in the living room (with only the fireplace burning), we see if we can get one of the family members to eat the "burnt cookie". We hand it to them, slip in on their plate, etc. and see if they'll eat it. One year I was the recipient: you can always tell right away it's the "burnt cookie" :)

Eric C. of MN
Watching (and giggling) at the kids, because we have a tradition in our family: No opening presents until 1" of snow has fallen, or 9 p.m. It has never snowed 1", nor have we ever had to wait until 9PM :)

Nancy Z. of MA
We make a birthday cake and decorate it. Write "Happy Birthday Jesus" on it. As my kids are getting married and having kids of their own they are doing this in their own homes too. Great reminder of what we are celebrating.

Robyn Y. of NC
We put on our own little christmas play at our home just for our family

Eileen D. of FL
My favorite Christmas tradition is our Christmas breakfast. I go all out that morning with a full breakfast, baked goods and beverages. But the one thing that makes it ultra special is the gift (always a small-sized present) that all members of the family find as a place card. It is the first present that opened that morning.

Anne M. of TX
Everyone gets new underwear for Christmas. Then we take a picture of all of us with the underwear on our heads. It started when my kids were 9,7 and 2. They are now 28, 26 and 21. And now we have spouses in the pics!!!!

Jill S. of TX
We like to make the whole month of December special. We make a paper chain for each day leading up to Christmas, and on each strip I write something special to do related to Christmas. The kids are always excited to clip off the next strip of the paper chain and see what is planned for that day! We include traditional activities like singing Christmas carols, going to a tree farm to pick out our tree, seeing Santa, reading the Christmas story, and making gifts for friends and relatives. We also include making a special meal for Daddy, visiting neighbors, taking a winter walk and going out late to look at lights. We all have so much fun with this and look forward to it every year! This year, we hope to make another chain for the time between Christmas and New Year's about the things we want to do to get ready for another year.

Barbara F. of FL
I started a gift tradition in my family since we are all so blessed. Each family member brings a christmas ornament to the party. I composed a story that included the words "right" and "left". To exchange the ornaments we stand in a circle and pass the gifts according to the story. Everyone loves it, and it works for office parties too.

Alisha F. of VA
We purchase an angel off the Christmas tree and go shopping for a needy child and family. It is alot of fun knowing your making someone else's christmas better by giving than receiving.

Kam A. of WI
When we were younger we used to go to church on Christmas Eve. When we got home from church my dad would pull the vehicle into the garage. Then, he would tell us to hold on and wait in the car because he thought he heard Santa on our roof. He went out to check while we stayed in the car. What he was doing when he was "checking" was climbing up onto the roof from the back of the house and then stomping around right above where the car was parked in the garage. Then he went in and drank the milk and ate the cookies and put the presents out. We completely believed that it was Santa on our rooftop and for some odd reason we never tried to get out of the car or the garage to see if we could see him! I plan on carrying on this tradition when my now 14 month old son is old enough.

Cindy S. of NY
Our Christmas tradition is pretty funny. We write a poem for each adult about all the bad things they've done all year. I know it sounds dreadful, but it's really a forgive and *don't forget* to NEVER DO THAT AGAIN! Knowing that your faults will be read in front of everyone makes you question your every motive and keeps the kids in check.

Darcy G. of WA
My family's tradition is to play the 12 days of Christmas. We as a family choose a family who needs a little extra Christmas spirit. My family looks forward to it every year.

Jennifer W. of GA
Every Christmas we start our festivities at 12:00 a.m. The dressing is coming out of the oven at 11:30 - 11:45. We promptly pray and began our full course meal at the strike of midnight. We now have friends coming over around 10:30 just to be a part of this. So by the time most people are sitting down to their first official meal we're on our thirds!!!!!!!

Michelle S. of IL
We all bring 5 or 6 gag gifts, wrapped as gifts. Such as... fake mouse, ugly christmas ornament, we have a strand of horses teeth,old 8 track cassettes, fake dirty diaper.... you get the idea. We disguise them as beautiful gifts. We also bring a couple good gifts such as a good smelling candle, a small box of chocolates, a rented movie certificate all these are also wrapped nicely. Then we have cardboard 8*11 marked off for bingo. Each square has a different Christmas thing such as... manger,star Jesus, Bethlehem..... so we play bingo for 30 min. when ever you get bingo you choose a gift from the middle of the floor. Sometimes we play 3 or 4 games on one card before we clear them for a new game. Then when all the gifts are taken we play another 15 min and steel from each other what gifts we may think are "good ones". Then we go around the room opening one at a time while everyone watches. This is usually a whole afternoon affair for our family. Some of the gag gifts are hilarious. For the past few years we have some boxers and bikini (men's) underwear that has been decorated with beads and bells. Whoever is "LUCKY" and gets a pair of these has to put them on (over their clothes, of course) and model for all to see.

Sherri N. of KY
We have Christmas Boxes. We get an assortment of small things like the toys from kids meals, dollar items, gag gifts, and put them in boxes for the children. Each item is wrapped before being put in the bigger box and wrapped again.
We number the boxes, put the numbers in an envelope and let each child draw a number. It's really fun to watch their faces as they try to figure out what each box of goodies holds...

Sharon S. of OH
I hand write a coupon for each of my children, such as a free day at the movies or a ride to the video store for a free movie and treat.

Mary M. of SC
A Christmas Tradition that we enjoy is giving gifts to people who give of their time, effort and talents to help others. For example, we place gifts with a note of appreciation under the Christmas tree at church and note that it is from an anonymous church member.

Michelle V. of CA
Every Christmas is always special. The only thing that matters is that we are together. My tradition is Mexican. We eat turkey, pie, chips, sopes, enchiladas, and sodas. We also put mexican music on and dance until we get tired. We also play dancing games. For example, we do a big circle and one person gets in the middle and dances. That is very fun. We also play loteria which means lottery. I am very lucky at playing that. I really enjoy it because I stop for a moment and I look at people's faces and they look very happy. I always enjoy it because that person that was with you last year might not be with you again this year.

Mary B. of CA
Mine is kinda silly, but I have been doing it with my sons since they were little. When it was time for us all to open presents we could not do it until we were all dressed up in our craziet outfit. We would wear anything that was crazy. Like an UGLY shirt with a nice skirt with shorts over it or something silly like that. Also if we got any type of clothes we would have to put them on also. Then after we were all done we would take pictures and then get to put on our regular clothes...This just makes it fun not just wondering what you were getting, but just hoping by the end that you had more clothes on than the rest of us. That is just own little tradition...

Tricia A. of NC
We give our daughter three Christmas gifts just like the Wise Men gave Jesus three gifts. Depending on our finances each year the presents can be big or one big one and two smaller ones or three medium sized presents. It gives her a sense of not being spoiled and also reminds her of Jesus' first time recieving presents.

Robyn Y. of NC
In my childhood, our father always knew what to do. He would make us a nice warm place to lay outside so we could stare at the sky look for santa, once we fell asleep our father would bring us back in and put us in bed. Afterward, santa would have come.

Lucinda H. of IN
Another of our Christmas tradtions is to take a candle at midnight onto the front porch and sing silent night...is very moving.

Judith M. of OH
We make homemade ornaments the first week of December, 2nd week we make and send cards, 3rd week we make and freeze food, 4th week we string popcorn and cranberries and Christmas Eve we have cocoa and snacks, play games, sing and pray.

Barbara B. of CA
Our tradition is from my father who began doing this after losing my mother. My father, who always was kind and generous, stumbled upon people that were in the same situation as he was. He asked someone else in a similar situation that was newly divorced and alone with two children and then it went on to a homeless man that he daily saw and gave spare change to and people that had disagreements with family and so they too were alone. He included in his life and ours people that were all brought together by some misfortune or loss in their lives which made them alone (physically) on that day. I carry on this tradition and my children ask in advance whose coming for dinner and anticipate a mismatched crew at times but never a problem always a time where they will remember how important family is.

Alisha F. of VA
Every year I bake and cook alot, make fudge, sausage balls, cup cakes and I go to the chinese restraunt and get the boxes they serve the food in, I fill up the boxes with my homemade goods and when an unexpected friend or family member stops by I have something to give them for Christmas. I decorate the boxes with Christmas stickers, bows and ribbons.

Debra B. of KS
We have a Christmas party where everyone bring two dozen cookies and two ornaments-one wrapped and one unwrapped. The unwrapped goes on our tree for memories and the wrapped one goes in a grab bag and when they leave they grab one wrapped ornament and leave with one dozen of their choice cookies.

Beckie P. of KS
We play a game because our family has gotten so big. We buy a female present if we are female and a male present if we are male. The first person in the circle takes a present from the pile and opens it. The second person has the option of taking what the first person has or opening another present. If they take the first persons present then the first person opens another present and you go around the circle you would be surprised how many times some things go around ...Oh yes you hide the present from every one and they have to remember who has it and what it was.

Lita N. of FL
Every year I have added a new stuffed animal to our Christmas Collection. This Tradition start on my daughter's 1st Christmas, 19 years ago. The idea was no Presents under the tree until Christmas Morning, reduced counting, shaking, etc. Today we have exactly 19 various Christmas stuffed animals that sit under the tree until Santa moves them and hides his presents amongst them. We look forward to sharing this tradition with her future children, and hope we have started something unique to our Family of 2 (Mom & Daughter)

Kathryn A. of OH
We have a large box of books that we get out on December 1st. We collect holiday books of all kind - probably more than one a day until Christmas Day at this point! - and we make a point of reading at least one every day of the holiday season.

Robyn Y. of NC
My aunt made up a game. We all buy each other gifts but a few weeks before christmas we all put $5 in a jar and she takes the money to purchase 1 really good expensive present. On Christmas day, after we open each others presents, we play the guessing game. She puts a pre counted amount of something (beans, peas, marbles, etc..) in a jar and the family members try to guess the actual amount and only she knows the answer. Whoever comes the closest gets the big prize. Its alot of fun.

Wanda B. of NC
Every year I take a picture of the children in Christmas Pajamas for the Christmas Card that way our family and friends can see how they are growing. The two boys and the two girls alike.

Linda G. of IN
Made a Christmas tree Skirt patchwork with kids prints. On the back it is white and each year the kids can write a special message about what christmas was to them that year. So when they get bigger they can look back at all the Christmas' and the special messages of what that Christmas was to them.

Patt H. of IL
We have a pretty big family so instead of buying individual gifts we have a grab bag. we set a $10 limit, you cant spend more than $10. like you can get a pkg of combs and wrap them individually. everything is put into a big garbage bag and we all sit in a circle and the bag is passed around and each person takes out 1 thing, open it up and set it aside. when everything is out of the bag then its time to start trading for what someone else has that you want. this is a blast and sometimes you wind up with more than what you started with cuz the bargaining could be "i will give you 2 of my combs for your dish towel" etc. this can go on for hours until everyone is done trading.

Irene I. of MI
When the kids were little we had the 12 days of Christmas...on each of the 12 days prior to Christmas the kids would get one small gift each if they'd done something to help someone outside the family on that day. They would be mindful each day of doing something special for someone and sometimes even forgetting their gift that evening. They're 18 and 23 now and they still talk about "The 12 days of Christmas". I'm sure they'll have the same tradition when they have children.

Kristi B. of CA
We hide small gifts on the tree branches and the children love finding them.

Steven D. of CA
We have a special glass ornament that looks exactly like a green pickle, and is called the "Christmas Pickle." I hide it every year in the Christmas tree just as my parents did every year. Everyone in the family participates in trying to find it on Christmas morning. The one who finds it receives a "special" Christmas present. They get to draw a card out of the stocking we have for Jesus. The card tells us what gift we will give for Jesus that year. Last Christmas we all went out and each purchased a new coat for a homeless person. It is a wonderful part of our Christmas each year and we have no idea how it got started and we don't care!

Judy S. of KY
We all would work on cookies, baking, decorating, and then with long strips of plastic wrap lay the fresh baked cookies in a long roll. ribbions were tied between each cookie and made a long cookie garland and hung over the door facings not only as a decoration but as a gift for guests as they left. Each guest takes the scissors tied with ribbon and cut off a cookie to take home with them.

Rita P. of MN
Our tradition starts on Thanksgiving Day when we all gather together--when the men are watching the football game all the women in the families exchange ornamens we have crafted ourselves or bought at crafs sales--we really enjoy this time to interact with each other--we range in age from 13 to 76--then at Christmas time when we decorate our trees, we remember what a great time we had with each other--we remember just who gave us each one--we started out with just 6 of us but as our daughters grew older and our sons married we added them to the fun--

Diana B. of NY
One Christmas we actually forgot to open our stocking presents, so we decided to wait until New Years Eve and a tradition was born. It works out nice because we can wait til the after-Christmas sales to really fill up those stockings and it keeps the "spirit of giving" alive a little longer as well.

Mary Lou L. of OH
Since I am asthmatic, we cannot have live greens in our home ... to compensate for that, we have a dozen artificial trees. Each has a special purpose or meaning. My favorite is what we call "The Giving Tree." Nothing under it is wrapped or tagged, as the point is that each guest during the twelve days of Christmas is invited ... no, urged ... well, actually REQUIRED to choose at least one item he or she can use or pass on to a loved one. There are gifts for all ages and interests, none of which costs us much money, but some people consider it one of the high points of the season, because of the variety and the fun of looking through everything.
Latest Entries....
Trisha M. of PA
Knowing Christmas was my favorite holiday, Matt implemented his marriage proposal in such a way that its vivid memory stayed with me years later and actually began one of our main holiday traditions. He had put the ring in a bell-shaped ring box that also served as an ornament and placed it on the tree. That night he urged me to find the new ornament. It was a wonderful, creative surprise.
The next year the ornament came out again, and I figured it would simply be a pretty ornament with a special memory attached. However, on Christmas Eve, Matt had moved the ornament to a new spot and had me find it once again. This time there was a ring with my birthstone and a piece of paper tediously folded. The note read, I love you because being your husband makes me happier than I have ever been.
So every year, on Christmas Eve, after we put our daughter to bed, we drink champagne by candlelight and sit by the Christmas tree. And every year, I search for the ornament to find another surprise. Some years, it's another piece of jewelry, such as the mother's ring I received the year our daughter was born; some years it's a piece of my favorite chocolate. And every year, there is a note reflecting on why he loves me. My usually conservative, unemotional husband has found a way through this traditional to be affectionate and show me how much he loves me.

Kelly H. of TX
We all get together and we each tell a story about the person that name we drew. A story that consists of only good things about this person, then we present them with their gift.

Janet E. of WI
What our families say together before any gifts are opened.----It's all about the Baby. It's all about the One. It's all about the Father who sent to earth his Son. It's not about the Christmas trees or the presents by the score. It's not about the parties or the snow piled high once more. It's all about the Glory, God sent to earth that day--A Baby, Christ our Savior, who sleeps upon the hay. It's not about the season; it's all about the Son. Let's bow and give Him honor, Jesus Christ, God's precious Son.

Linda G. of IN
Christmas eve we would set down and read the xmas story and then say what we were thankful for. Then we have everyone think back over the past year of special people's who touch there lives. Each person is given 6 envelopes and cards to express there thankfulness for what that person meant to them that past year. Could be a teacher or a sunday school teacher, just a person that past through there life at a special time that meant something to them. We then mail the special thank you's and remember them in prayer that night.

Andrea M. of FL
My family has this brick...a actually red brick.Every year someone will get that brick as a gift and they have to write their name and the date they got it on the brick.After 10 years that brick is pretty well covered.But its very fun to get and more fun to give!

Robyn Y. of NC
My uncle is a very humorous person...He has made it a special treat for the kids every year. He has wrapped himself up several times and let all the kids open him then he jumps out and scares them.

Trisha M. of PA
My daughter loves being a little helper, especially around the holidays. She wants to be a big part of the preparations and loves giving gifts. I found a great way to include her in preparation and gift giving. She has a large easel that holds large sheets of paper. She draws and colors unto the sheets, just unrolling the paper as she goes. We then use her drawings as wrapping paper. The family loves it, and she is proud that she has taken a big part in the gift giving.

Robyn Y. of NC
We always get a huge box to put all the used wrapping paper and bows in. The kids make a yearly event out of this, once the box is filled they all climb into it and always have lots of fun and laughs playing in all the used paper.

Michele L. of NC
Every year I save all my large jars from cooking with lids...then at christmas I let my children paint the jars with christmas pictures/santas, snowmans, angels etc. and we make christmas cookies in a jar for the family members to give out at our family christmas dinner members...its a BIG HIT!..and makes the kids smile.

Kelly D. of TX
This tradition started from a small child who loved to point out the obvious. It was christmas morning when the little girl said "this is Jesus' birthday, right?" "yes" her mom replied. " So where are his presents and his stocking?" the girl asked, her eyes brimming with tears. Since then, we have hung a stocking, and left presents for the Lord. The first of which was a chucky cheese coin from that little girl. I still love to point out the obvious.

Lucille H. of OH
There are seven of us girls and two brothers. For the past three years we have collect money from our own family which includes all our children and their children . We set thanksgiving as our deadline and we ask everyone to send any amount of money. This is anonymous and no one knows who sends what. Then we ask everyone if they know of someone in need. We have sent a special needs child to camp. We have helped a father and two children after they lost their mom of cancer. We have bought gifts for everyone in a nursing home. Everything is delivered anonymously. It has given us the greatest pleasure in doing this. Last year our nephew went through a bad time and we sent him the money and did not sign the card. His dad put it under the tree and when he opened it he cried there was almost fifteen hundred dollars. Blessings Lucy

Tina R. of WA
When our family gets together for Christmas we play Bingo. Everyone is to spend 5 dollars and get prizes like a 2 lt. drink, a large candy bars, candles, anything we can come up with as a fun prize. And the person that Bingos gets to pick a prize. The reason we do this is because our family is so big, we can not afford to buy everyone a present.

Wilma G. of OR
Every year I make for each member of the family (ten) a new pillow case. The fabric is themed to something that happened during the year or a new interest. My daughter-in-law started raising chickens this year, so her fabric is a wonderful chicken print and the band at the open end looks like chicken wire. One son is getting a motorcycle print...he got a motorcycle this year. One small grandson is getting wonderful clown fabric because he loves dressing as a clown to do a "magic act". The sewing doesn't take long and searching for just the right fabric is so much fun.

Terry T. of IL
Each year we have a Christmas trivia game that we hold during our annual Christmas party. I scour the internet for interesting tidbits, sprinkling in questions about today's movies, songs, stories, etc. I have talked about changing or even stopping this, but everyone says no!

Leila S. of AK
We play a game where we print out a song, like silent night and cut it up, we split up into groups and the first one to put the cut up song puzzle together and puts the song together and successfully sings the song all the way through, Wins.

Dona D. of MN
Our family hides christmas gifts and then each person gets a clue and that clue will lead them to find another clue and eventually to their gift. It's great fun. We usually have about 4 - 5 clues. It makes opening gifts alot more fun.

Mary F. of ON
We live in the country outside of Ottawa in a small town called Rockland. On Christmas eve about 6 o'clock our family goes to a really big hill near our house to go sliding. Many families from the town gather here and we have a bonfire going and hot chocolate for the kids. At 9 everyone goes home and most gather again around midnight at the stone church located in town for midnight services. After that it's back home and everyone opens their presents and we have a traditional Quebec dinner of tortierre, ham, homemade breads, baked beans and wonderful Maple sugar pie.

Chandra S. of Alberta
Every Christmas eve we start our night off with a hot dog roast in the fire place. Then we take our largest sheets and stretch them across our family room creating a tent. (You may have to use some joined together.) We pin them to the back side of couches, chairs, curtains etc... We then bring in some of our camping gear...such as blow up mattresses. We then read the Christmas story, think of one thing we would like to give to Jesus (usually a commitment of some sort. Ror example read our Bible more, think about what we are praying about, save part of our allowance to help a charity of our choice, etc..) and then finally we sleep in front of the fire place in our make-shift tent. The kids have fun, it is time well spent with them and we are all in bed early and ready for the next days events. We have four young children (8,6,4,and 2) and it is the highlight of their year. This will be the first year we will try it with our youngest who is 2!!!

Deanna C. of MO
I let the kids make a christmas scene on a piece of construction paper. We make enough for everyone who is coming over on Christmas Eve. I then take contact paper and laminate both sides to make them waterproof and we use them as placemats. It makes the table look so festive and the kids stay busy for hours.

Kelly T. of MO
A few weeks before Christmas we get together with friends and have a wildlife hike. We take gifts to our local park to feed the wildlife. Gifts include corn, birdseed, a salt lick for the deer and whatever else someone wants to give. Everyone hikes a couple of miles and then we all come back to our house for soup and a potluck lunch. Its a great way to celebrate nature and our friendships.

Amy M. of Alberta
We put $50 into an envelope and pop it in a strangers mailbox. Usually its someone that we think needs this money to help them. What a good feeling it gives us. Our children are only 3 and 4 years old right now but we hope when they are older and have their own families they will do the same! Giving IS the true Christmas Spirit!

Donna P. of IN
My son and I have had a "winter picnic" since he was small and still have one every Christmas season even though he's 17. We spread out a bright red blanket on the middle of the floor and put all of our goodies around us and dig in. We use cheeses and meats on crackers, have sparkling cider and top it off with a dessert every year. It's a great time for us to catch up with each other too and slow down and enjoy the season.

Sandi S. of IL
I am the oldest of six children, which meant that Christmas morning was extremely busy! When I was a child, "Santa" would hide our Christmas stockings in various places around the house. When we woke up bright and early in the morning, we were allowed to hunt for the stockings and explore the contents. The only rule was that the youngest child had to find hers first, then the next youngest and so on. This kept us busy for a while in the mornings while Mom and Dad slept for a little while longer. As I got older, I realized how smart my parents were to keep us busy enough so that we did not jump into the pile of presents and begin tearing them up before they were even out of bed! My son is only 8 months old, but in a few years I plan on making this a Christmas morning tradition as well. I look forward to watching him hunt around the house for his stocking, and seeing the look on his face when he finds it brimming with small gifts. It's sure to become!
a fun and memorable tradition for years to come!

Carol F. of FL
We have a traditional Christmas Light Game we play when driving in the car. It begins on the evening of Thanksgiving when we are usually driving home from grandparents home. When you see lights in a yard or window you call Christmas Lights On the HOuse or Christmas Lights in the Window. The first one to call it gets a point. When the car ignition is turned off the game ends and the one with the most points wins. We make up new rules each year such as the drive, who is at a disadvantage gets an extra point added. We keep track of it until December 25 then the games end and we have an overall winner. There has never been a prize as just being able to carry on as that years winner for the future seems to be enough glory. I as the mother that got skunked one year and never won a game. I was known the next year to pull over on the side of the road and turn off the car when I was ahead to make sure I won. We will always have the memories of our family!
y game Christmas Lights!

Audrey L. of MN
Mom and I would bake Christmas cookies every year. One year, I learned (in school) to take the round Quaker Oatmeal boxes, glue pretty Christmas paper around it and on the top, then put a bow on top. We filled a box with our home-made Christmas cookies and I took it downstairs to give to "grandma." She was extremely frail and housebound, but absolutely delighted with my gift. This continued until she passed away some years later, well into her 90s.




We hope you have enjoyed this great list of
Christmas Traditions!
Please visit one of the other many places on our site
including: Shop the Bazaar