Knitting Instructions: Knit & Purl Basics
Go back to How to Knit a Purse Main Project Page

© Copyright 2010 by AOK Corral Craft and Gift Bazaar All rights reserved.
These projects are for your personal use only and may not be reprinted or copied.

You may print this page as is or... See our easy print option below.
Stockinette / Stocking Stitch - Knit stitches and Purl Stitches: When one side of your work is always knit stitches and the other side of your work is always purl stitches, this is called the Stockinette stitch or Stocking stitch. With this stitch the knit side is usually the right side of your work. You will probably find that you have seen it on many sweaters and socks.

Here are some examples of knit stitches and purl stitches: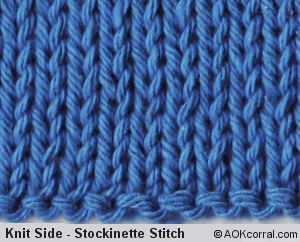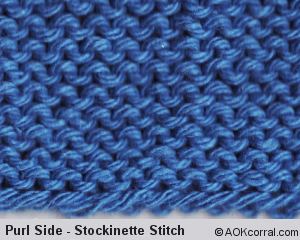 Knit stitches look like the letter V.
Purl stitches look like a combination of hills and valleys going up and down across your work.

Knowing how to recognize a knit stitch and a purl stitch will be very helpful as you advance in your knitting. With Stockinette stitch you can easily count your stitches or rows from the knit side of your work. To count stitches from side to side, simply count the V columns. To count the number of rows, simply count the number of Vs going up your work. Knowing how to do this comes in handy if you forget which row you are on in a project that uses simple knit and purl combinations.
How to switch back and forth between Knit stitches to Purl stitches in the same row.
| | |
| --- | --- |
| | |
| To switch from a knit stitch to a purl stitch, bring your working yarn from the back between your needles to the front, now you can purl. | To switch from a purl stitch to a knit stitch, send your working yarn from the front between your needles to the back, now you can knit. |

Easy Print Option:
The easy print version includes all instructions for knitting the purse, how to purl, and knit/purl basics info.



Go back to How to Knit a Purse Main Project Page