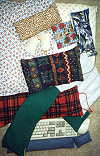 Click on a button below for products:
Your order is secure
Click here to know more.



Website developed by
AOK Corral Craft and Gift Bazaar
Welcome! to

feelgood Products Co.
The natural way to relax!
Featuring 100% pure, natural Buckwheat Hull & Flax Seed products with special aromatherapeutic spice and herb blends and innovative product designs to give you the ultimate in comfort! All products have removable, washable, velcro closure covers.
These Buckwheat Hull products will cradle your body with stay cool, passively compliant, conforming support:
SlumberSacks, in scented DreamPillow or unscented, 100% cotton assorted print covers. Reg, std or queen size. EasySew Kits, too!
Fleecy Back & Neck Supports for home, office & travel size
ComputerCompanion wrist support set for your keyboard & mouse
KatKots & PoochiePads to pamper and treat your pets like royalty
Microwave or freeze these Flax Seed products which combine aromatherapy, accupressure & moist thermal therapy to give you instant relief and an overall sense of well being:
Fleecy BodyWraps to ease away stress, tension and muscular/joint aches & pain, 6"x30" to 8"x32"
Soft flannel BabyWraps for colic relief and fever reduction
Sinus and Stress EyePillows to relax away tension/sinus headaches, congestion and tired, puffy eyes
Cozy flannel BedBuddies can be used cool or warm. The French lavender and hops scent will send you on your way to dreamland
PocketPal HandWarmers microwave for 1 min for over 30 minutes of warmth
The natural scents of these specially blended sachets are sure to win the hearts of all those who use them:
DreamPillow Sachets with it's special sleep-inducing blend, pin onto your pillow under your pillow case for sweet, sweet dreams
Bath/Spa Relaxation TeaBags calm your frazzled nerves as you bathe and seep in the specially blended relaxing herbal essences
Lavender Dryer Sachets add a lovely floral scent to your linens and lingerie when you toss it in with your dryer load
Customized aromatherapeutic blends, product designs and fabric covers are available upon request
For more information, call us at feelgood Products Co. (253)630-8521 or email at myfeelgood@comcast.net
© Copyright 2000 by feelgood Products Co. All rights reserved.