Please wait...Photos on this page take a few moments to load.

More Projects available on project library page.
Click Here

Please don't forget to Visit our Craft and Gift Bazaar and enter to WIN in our latest giveaway!
Create your own Cross Stitch Design...Sept 2000


© Copyright 1999 by AOK Corral Craft and Gift Bazaar. All rights reserved.
Instructions for Beginners on How To Cross Stitch......Click Here
Materials Needed To Design Your Own Pattern:
Graph Paper ( 8 squares per inch )
Pencil and Eraser
Colored Pencils ( if desired )
Floss Color Chart that shows color shades ( Or lots of floss shades on hand )

Draw the picture: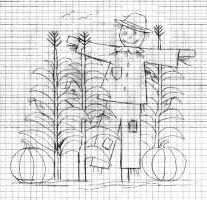 First you will need to draw your picture on the graph paper. The size that you draw the picture is very important. One reason is that the more squares you cover with your picture, the more detailed you picture will be able to be. Another reason is the finished size of your picture. For example: if you are using graph paper with 8 squares per inch than your picture will actually be only half the size if you stitch it on 16 count aida cloth. If you use 14 count it will be a little bigger, and of course 11 count would be getting closer to the actual size that you drew your picture.

Transform the picture into square edges:
This next step can be a little time consuming if your picture is very large and detailed. Use full squares and half squares to achieve rounded edges. The pumpkin here shows how this is done: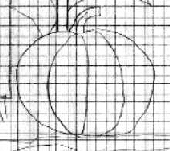 Before Squared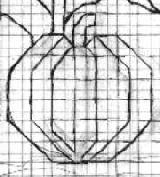 After Squared
Shade the picture: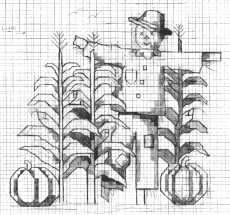 Next you need to decide where the light is coming from in your picture. A little knowledge of art comes in handy here. In this scarecrow design the light is coming from the left side of the picture. So there are shadows (or darker color shading) on the right side of the things in the picture. Also things that are in the background will be darker because of shadows. Then shade in the squares of your picture that you want to be a darker color. You may find that using colored pencils is better for you.
Determine your floss colors:
The best way to do this is to have lots of colors and shades of floss so you can lay them against each other to find the best shading blends. If you do not have that much floss on hand you can use a floss color chart that shows a sample of each color. Or you could go to your craft store and choose colors right out of the floss bins. ( Colors are often grouped together in shading blends. )
If you want to keep your design for future use you should make a copy of it and use symbols to indicate the different colors instead of the shading.
Now you are ready to try out your design by stitching it yourself!
© Copyright 1999 by AOK Corral Craft and Gift Bazaar. All rights reserved.
These projects are for your personal use only and may not be reprinted or copied without written permission from AOK Corral.

To View other Projects go to Project Library Page
If you enjoy these projects, please support our website by shopping our Craft Bazaar

Home