Rice crispy treats (see recipe below)
Chocolate decorator frosting in tube or homemade frosting with piping bag (see recipe below)
Wide mouth canning jar rim
Butter knife or paring knife
Giant "Tootsie Roll" Candy
Pink "Sour Punch Straws" or Shoestring Licorice
Regular "Hershey's" Chocolate Bars
Regular or Mini "M&M" Candies
Red "AirHeads" Candy
"Junior Mints"
Rice Crispy Treats recipe: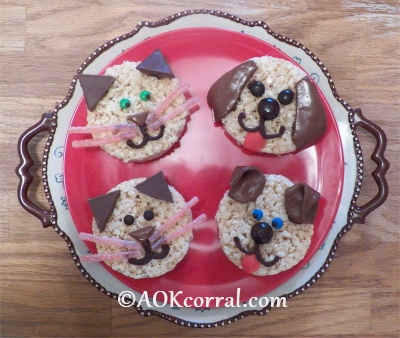 (Recipe from "Betty Crocker" cookbook)

32 large marshmallows or 3 cups mini marshmallows
¼ cup butter
½ tsp. vanilla
5 cups rice crispy cereal

Grease a 9 x 9 (or 8 x 8) inch pan. Heat marshmallows and butter in saucepan over low heat, stirring constantly until melted. Remove from heat and add vanilla. Stir in half of the cereal at a time until coated. Press into pan. Cool until firm.
Use pre-made chocolate decorator frosting in a tube, or make your own with this recipe:

1 Tbsp. Solid shortening or butter
1 Tbsp. Milk
1/4 cup of unsweetened baking cocoa
1 & 1/2 cups powdered sugar or enough to make a stiff frosting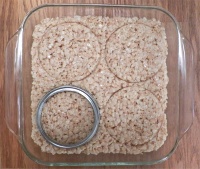 Mix the first 3 ingredients and 1 cup of powdered sugar together. Add more powdered sugar until the frosting is stiff enough to maintain peaks. Add green liquid food coloring and mix well. (Recipe makes approx. ½ cup of frosting.)
Cut the rice crispy treats: Push circles into the rice crispy treats with the wide mouth jar rim. Use a knife to finish cutting the circles out.
Cat Treats:
Cut triangles from a chocolate bar using a heated knife for a clean cut. (To heat, place in a glass of hot water)
Cut 2 inch pieces from sour punch straws, divide each piece in half lengthwise with a sharp knife
Using frosting as glue, attach ears
Draw a mouth with frosting
Attach the nose and eyes
Attach the whiskers (Use very small dots of frosting so that it does not show around the whiskers)


Cut 1" and 2" inch sections of the large tootsie roll. Roll them out with a rolling pin
Trim them for the type of dog ear you want to add




Cut a 1" piece of red airhead candy, divide that piece in half, then trim the corners off one end and round the other end creating a teardrop shape
Using the frosting as glue, attach the ears and tongue
Draw a mouth with frosting
Attach the nose and eyes